Gina Marie Hurley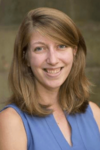 Gina Marie Hurley is a sixth-year PhD candidate in Medieval Studies at work on a dissertation entitled " 'Schryue yow openlye': Confession and Community in English Literature."  Her scholarly work has appeared in The George Herbert Journal and is forthcoming in the Journal of English and Germanic Philolology.  She has presented papers and organized panels at international conferences, including the International Medieval Congress at Kalamazoo, the New Chaucer Society and the Medieval Academy of America.  Her research has received awards, travel grants, and fellowships from the Medieval Academy, the New Chaucer Society, Yale University, Purdue University, and the Beinecke Rare Book & Manuscript Library, among others. 
She received her MA in English from Purdue Unversity, where she taught introductory writing through a variety of lenses, from monsters and heroes to research in the university archives.  While at Purdue, she also taught in first-year learning communities, an interest she has continued at Yale through her work as a Graduate Affilicate Coordinator at Silliman College.  At Yale, she has taught courses on "literacy liars" like Cyrano de Bergerac, Chaucer's "hendy Nicholas" and Shakespeare's Iago as well as the modern essay, featuring writers like Jhumpra Lahiri and Tom Wolfe.  In the 2018-2019 academic year, she will be the Interim Assistant Director of Graduate and Postdoctoral Teaching Development at Yale.  In that capacity, she will work to create cross-disciplinary workshops on pedagogy, with a specific interest in inclusivity, digital tools, and material culture in the classroom.
Gina is also invested in the digital humanities, having led workshops on digital editing at Yale, University College London, the University of Pennsylvania, Emory University and the University of Toronto (at the Medieval Academy of America annual conference).  These two-day graduate student workshops teach basic skills in TEI/XML markup for manuscript rolls and fragments and are a part of an ongoing partnership between Yale and UCL.  Other digital projects have included collaborating on the Mellon-funded project, "A Literary History of English Books of Hours", led by Professor Jessica Brantley, as well as curating interactive digital content for the 2018 Mystic Seaport Museum exhibit "Science, Myth, and Mystery: The Vinland Map Saga".  In 2017 Gina co-curated an exibition of manuscripts entitled "Making the Medieval English Book" at the Beinecke Rare Book & Manuscript Library, which is now available as a digital exhibit on the Beinecke website.