Chihiro Larissa Tsukamoto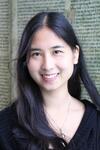 Chihiro Larissa Tsukamoto has a B.A. in Political Science from Columbia University and an M.A. in Medieval Icelandic Studies from the University of Iceland. With funding from the Leifur Eiríksson Foundation, Chihiro reconstructed Viking Age music for her master's thesis by using Old Norse, Greek, Latin, Arabic, and archaeological materials. Chihiro's PhD dissertation studies how music was used for healing in ancient Greece, the Byzantine Empire, and the Abbasid Caliphate. Chihiro is passionate about health, and has been a Health & Wellness Fellow at the McDougal Center, a founding member of the Yale Health Advisory Council, and a student board member of the Good Life Center. A conservatory-trained classical pianist, violinist, percussionist, and harpist, Chihiro hopes to apply her research in modern clinical settings. Chihiro is particularly passionate about palliative care and pain management, and is a volunteer harpist at Yale-New Haven Hospital. 
For information about the Old Norse reading group, please email Chihiro at chihiro.tsukamoto@yale.edu.