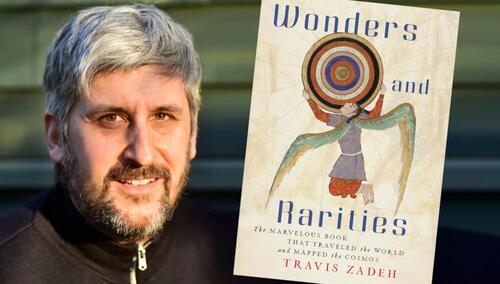 Yale's Travis Zadeh discusses his new book, "Wonders and Rarities," which examines a seminal 13th-century work of natural history and cosmology.
For centuries, "The Wonders of Things Created and Rarities of Matters Existent," a seminal work of natural history and cosmology by 13th-century Persian scholar and judge Zakariyya Qazwini, has taken its readers on a journey into the mysteries and complexities of the world.
Drawing on classic and contemporary sources, Qazwini examined both the mundane and marvelous, addressing subjects as diverse as shooting stars, beehives, horses, and dragons.
Today, manuscript copies of the work are housed in major research libraries across the globe. Yale possesses several, including some that are lavishly illuminated. Yet, over the years, Qazwini's encyclopedic compendium became regarded as a bizarre, if beautiful and intriguing, artifact of medieval ignorance.
In a new book, "Wonders and Rarities: The Marvelous Book That Traveled the World and Mapped the Cosmos" (Harvard University Press), Yale's Travis Zadeh, a scholar of Islamic intellectual and cultural history, seeks to restore Qazwini to his rightful place as an important thinker who helped people better understand the world. 
Zadeh, who was promoted this year to professor of religious studies in Yale's Faculty of Arts and Sciences, recently spoke to Yale News about Qazwini's importance in bringing clarity to the cosmic order. The interview has been edited and condensed.
Read the full interview with Travis Zadeh here:
https://news.yale.edu/2023/05/19/world-wonders-exploring-13th-century-muslim-guide-cosmos?utm_source=YaleToday&utm_medium=Email&utm_campaign=YT_YaleToday-Staff_5-25-2023