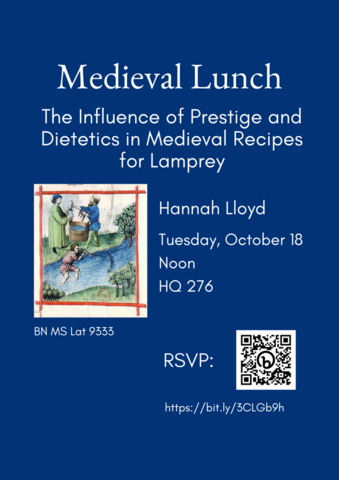 Event time:
Tuesday, October 18, 2022 - 12:00pm
Event description:
Please join us at noon on Tuesday, October 18 in HQ 276 for lunch and a presentation by Hannah Lloyd entitled "The Influence of Prestige and Dietetics in Medieval Recipes for Lamprey" that compares medieval recipes for lamprey, sturgeon, and eel to evaluate how concerns about health and taste combined to inform medieval food culture. 
Please RSVP by Friday, October 14 with this Google Form.
For those of you who are new to the medieval community at Yale, Medieval Lunch is a longstanding weekly event held Tuesdays from 12:00-1:00 pm. It's a great opportunity for everyone interested in the broadly-construed Middle Ages to come together and learn about and discuss new work. Presentations usually start at 12:30 and run for 20 minutes with 10 minutes for questions afterward. Medieval Lunch is a friendly place to test out upcoming conference presentations, but we also welcome less formal presentations of works in progress. Presentations can be from members of any program or department at Yale as well as from outside speakers. To learn more about Medieval Lunch, 
visit our website
 and please reach out to me at 
serena.strecker@yale.edu
 if you have any questions.